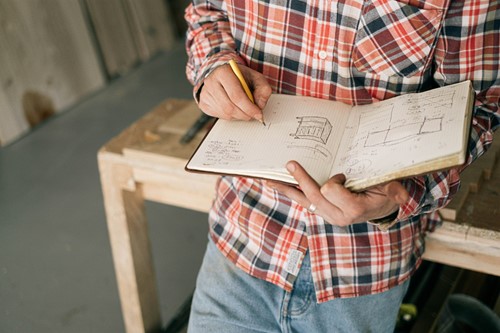 Whether you're a crafting enthusiast or simply want to save some money on home decor, DIY furniture projects are a great place to start. With so many DIY projects on the table, it can be difficult figuring out if you should start with the coffee table or the DIY wooden bench. Don't fret. Here are a few DIY furniture projects for your bedroom to get you started:
Transform a door into a headboard
Old or unused doors are an excellent source of scrap wood for DIY projects. One great way to use an old door is to upcycle it into a headboard. Remove the hardware, buff out any scratches and clean off residue. Then, you can choose to finish it with a coat of paint or use a clear finishing coat to protect your new furniture piece.
You can either attach the new headboard to the bed frame or simply lean it against the wall for a simple DIY furniture aesthetic.
Turn old drawers into trendy wall shelves
If you have an unused dresser or cabinet with empty drawers, consider using them to make DIY shelves. Depending on your preference, you can remove the drawer pulls or leave them attached for a funky, rustic vibe.
Simply turn the drawers open-face out against the wall and attach with brackets. This DIY furniture project is versatile enough for any room of the home, and especially useful for storage and display in your bedroom.
Make a mid-century modern bedside table
Hairpin leg tables are a staple of mid-century modern design and simple to DIY. All you need is a set of metal pin legs and your choice of surface. A round piece of natural wood is a perfect addition to the minimalist metal legs, and makes attaching the pieces as simple as screwing in brackets. Use this piece of DIY furniture as a stylist nightstand or accent table.
These are only a few ideas for making your own furniture. With a little creativity and basic tools, you can create unique decor out of a variety of objects and materials.